This is an archive of the epic.SEVEN tournament site. For latest tournament information, please visit tournaments.epiclan.co.uk.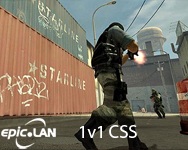 We are pleased to announce a 1v1 tournament to take commence on Friday from 11am. There are places for up to 32 players and it will be a straight single elimination using MR15 and aim_map.
This is a self admining tournament so please ensure you confirm your scores as soon as the match is over to ensure the server can be allocated to the next match.
Signups are open now and will close at 10:45am on Friday.
The prize for the winner is a Roccat Kone [+] Mouse