This is an archive of the epic.SEVEN tournament site. For latest tournament information, please visit tournaments.epiclan.co.uk.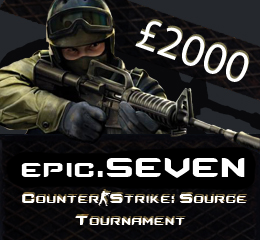 Team signups for the epic.SEVEN Counter-Strike: Source Tournament are now open.
When you have confirmed your space for epic.SEVEN, you will be able to join in with the CSS tournament in one of the following ways:
Create a New Team
Join an Existing Team
Sign Up as a Merc
So if you have a pre-arranged team, create the team, hand out the passwords to your team members and get yourselves signed up.
If you don't have an organised team, but you want to take part anyway, then sign up as a merc, put a comment in the box about your skill/preferred class and we'll help you to get involved in an existing team or mix team to be in with a chance of winning the prize.
epic.LAN is pleased to continue its return to organising professional LAN gaming tournaments after the sucess of epic.SIX which saw Rasta.Xd take victory over Link Gaming. The victors will be returning to defend their 2nd title in a row but will anyone be able to unseat them?
With 8 years of experience running LAN events, the team is in a prime position to continue their tournament series at epic.SEVEN in July 2011 at Uttoxeter Racecourse, Staffordshire.