This is an archive of the epic.SEVEN tournament site. For latest tournament information, please visit tournaments.epiclan.co.uk.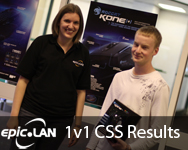 Epic.SEVEN CSS 1v1 Winner

16 players have been battling it out since 11am to secure themselves a spot in the 1v1 final. The hotly contested match was fought between chronic and Avash who are both from the team R.I.P WaWa who formed as a mix for this event. The final standings:

1st Place: chronic
2nd Place: Avash

The prize for the winner is a Roccat Kone [+] mouse and the pride of being the epic.SEVEN 1v1 aim map champion.

Thank you to all who took part and we shall see you later for the start of the 5v5 tournament.
Demos can be found on our demo FTP server: